Vegan closes in on his 100th ironman triathlon
Triathlon - and ironman triathlon in particular - is seen as a massive achievement by most of us. Just finishing a full ironman is a fantastic achievement that many athletes aim to do once in a lifetime. Todd Crandall has done more than this and this is just part of his incredible story.
1 October 2022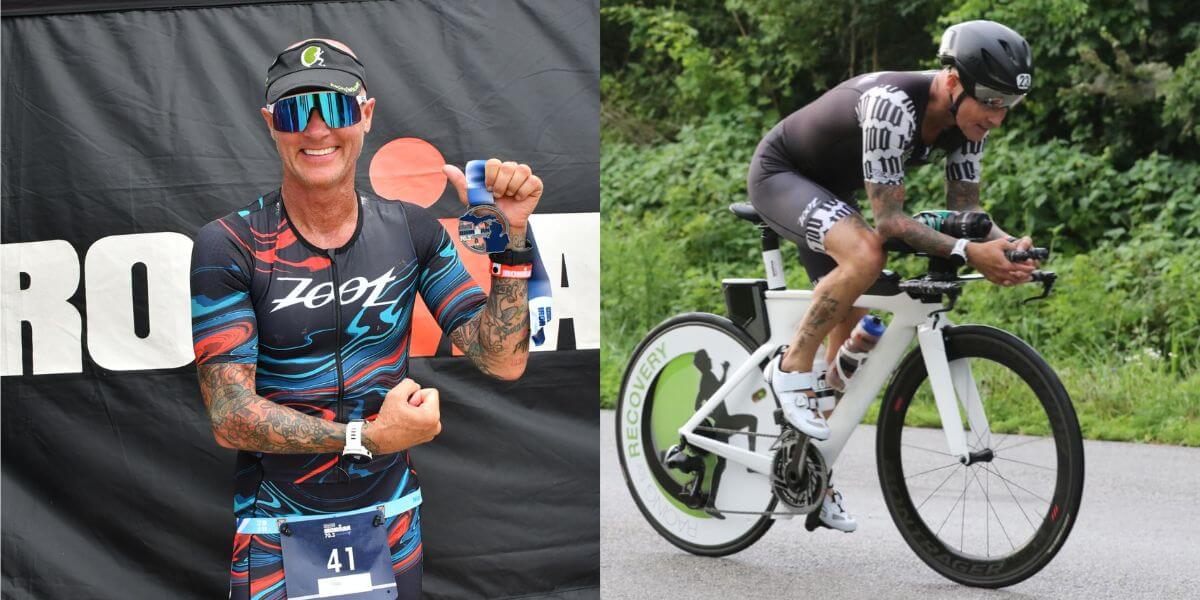 Remember that a full ironman consists of 3.86 km of swimming followed by 180.25 km of cycling. We follow this by running a full 42.2 km marathon. The half-ironman distance halves the distances to a total of 70.3 miles. Todd is closing in on his 100th ironman.
Todd led an unhealthy lifestyle for years. For thirteen years he misused alcohol and other drugs which devastated his life and robbed him of a potential professional hockey career.
In April 1993 that all changed. He's since completed 99 ironman events. 32 have been full and 65 have been at the 70.3 distance. Two have been Ultraman – where the distances are doubled.
He's in Kona, Hawaii for his 100th ironman event.
"To be here with my daughters, friends and coworkers from Racing for Recovery and share our slogan 'WITH SOBRIETY ANYTHING IS POSSIBLE' is a blessing" he says. "One that I will cherish for a lifetime."
Already Todd has authored three books and been the subject of three documentaries. A fourth of each is in the making.
Todd now runs Racing for Recovery providing clinical, education and long-term sobriety experience. It helps people in building a balanced holistic lifestyle that is conducive to sustaining sobriety that they actually enjoy living. "In the end sobriety is about not wanting to use self-destructive modalities as coping skills but rather fully embracing the goodness of life" Todd says.
"Happiness is earned through learning to live with empathy, humility and gratitude and sharing what was graciously given to us back to those in need."
For the last part of this, Todd has been vegan.
"I went vegan on February 1st 2016 after watching a series of movies and videos that showed the horrific torture animals go through" Todd tells Great Vegan Athletes. "Just like with my sobriety date, I stopped my way of thinking and changed to one of compassion and what is right. Being vegan is about the animals and the benefits of that are my body is healthier and our world is better."
"We are ruining our bodies, world and torturing billions of animals before murdering them and the money that is made from this industry and health care is maddening."
The incredible feats of endurance have been entirely powered by plants – and that has not been a problem. He eats large amounts of chipotle. His smoothies include veg, fruit, alond milk, chia, flax and protein powder. Todd also eats organic wheat bread or sprouted seed bread, and pasta, beans, guacamole and rice.
"The Vegan Chef at my non-profit, Racing For Recovery , makes awesome meals and smoothies for the souls in recovery. Plant based meals and exercise are crucial for detoxing the body and mind."
At age 55 and close to achieving the incredible milestone of 100 ironmans, incredibly Todd is far from finished.
"I look at both men and women in their 60s, 70s and 80s doing these things and I am motivated and inspired by them. I know being vegan 100 percent has helped me to achieve the 100 Ironmans I have done and also has helped me to recover quicker and train without injury." Todd also had another possible goal. "I have thought about someday being the oldest person to complete an ironman."
Part of this continuing approach to health and fitness is a mental process. It seems to have been born from Todd's recovery and ongoing discovery of self.
"I have lived my life with three words and they are Empathy, Humility and Gratitude. They are the foundation of not only my sobriety, but my daily mindset. Since becoming vegan those three words are enhanced along with compassion, love and genuine care for all living things. So at this stage of my life I am simply thankful for my life, and also, for the first time, I am thanking myself for having the drive to continue despite the constant battles that life and humans bring. It is challenging at times but anything I am going through is nothing to what animals go through."
See more vegan cyclists and runners
Todd is one of several elite athletes who have embraced veganism and have beaten addiction. You might want to check out Rich Roll, Catra Corbett, Yassine Diboun and Monk Coleman.