Pam Boteler is a retired sprint canoeist who has made history in a number of ways.
Won a record eight Gold medals at the 2006 US Nationals
Held the women's C1 1000 meter record long into retirement
Won 32 US National Championships titles
Pam started competitive sprint canoeing in 2000 at age 32.  At that time, women were barred from national championship events. She was the first woman to compete in canoe at the 2000 US National Sprint/Kayak Championships.  She competed against the men in the intermediate class, which was a bridge class for men jumping from the junior to senior rank.   Competing against the men did not stop her – Pam left with a gold and bronze medal.
In 2001 she was forced to compete against the men again, winning gold in the men's C4 (4 person canoe event).  Pam finished the season actually ranked 8th nationally in men's canoe. Pam told us how she helped to change things.
"I know that my efforts on and off the water and my good working relationship with USA Canoe/Kayak (USACK), the national governing body for our sport, were influential in spurring USACK to change its bylaws.  In 2002 they allowed women to race at the nationals in events of their own, equal to the men. (We were only the second country in the world to do so. Now there are over 50)."
In 2001 she represented the U.S. as the first female canoeist to compete in the Pan American Sprint Canoe/Kayak Championships.  This was the first event to include women's canoe events.
The following year she became the first woman to compete at the U.S. National Marathon Canoe/Kayak Trials.  This is a 30 kilometer event in an ICF (high kneel) sprint canoe. Competing against the men, Pam won silver.
"This event made me the first woman in the world to compete in a sanctioned marathon event in C1 (high kneel). This national team trials was the selection race for the ICF Marathon World Championships. Because women were prohibited from competing in canoes at the Marathon World Championships (until 2015), I would not have been permitted to compete even if I had won."
In 2003 Pam represented Team USA, competing in the first ICF Sprint World Championships to offer women's canoe as exhibition events.
Breaking records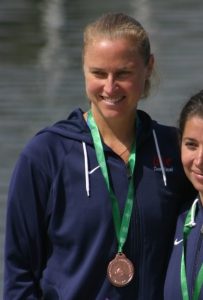 In 2006 she won eight gold medals at the 2006 US National Championships, which is a record that continues to stand.  Pam was undefeated in the women's C1 1000 metres and still holds the American record for the distance. In both women's C1 200 metres and 500 metres Pam was undefeated from 2000 to 2008.  Her American C1 500 metre record still stands.
In total Pam participated in 3 World Championships and 5 Pan American Championships,  earning 11 international medals.  She finished her sprint canoe career in 2010 with an amazing 32 U.S. National Championship titles.
With so many achievements Pam has many positive memories of her career. A more recent favourite was winning the 2014 Hawaiian Airlines Liberty Outrigger Challenge.  This was with her Washington Canoe Club women teammates – in a 6 person outrigger canoe.
"We earned Hawaiian Airlines sponsorship to compete in the unofficial world championships for women's outrigger canoeing, the Na Wahine O Ke Kai ('Women of the Sea').  This was a 42 mile crossing of the Ka'iwi Channel, Moloka'i to Oah'u. We finished 24th. We won the Liberty Challenge again this past June (2016) and will fly under the Hawaiian Airlines banner back to Moloka'i to compete again, with an even stronger crew, to attempt to get in the top 20." You can follow race results here.
Vegan power
Pam's success has been plant-powered. "It was an evolution toward 'something' that felt right (whole-foods, plant-based), coupled with intensive reading/research over 4 years" Pam told us in a recent interview. The tipping point was a major health crisis in 2007.
"I finally better understood the impact of choosing plant-strong nutrition had on saving animals from death and torture and I was learning about the environmental impact."
"They say change doesn't happen until it's more painful not to change. I started 2007 already training hard and excited for the 2007 season as I was coming off of a record-setting 2006 season in sprint canoe. By spring I felt like I was moving at 100 mph in some areas and 1 mph in others. By end of May, I was done, and a bout with food poisoning did not help.
"My season was over before it started, but I do believe it was a complete physical, mental, emotional and spiritual shut down. I was flat on my back for 2 weeks, home sick from work and unable to eat. I lost 11 pounds."
"After my lowest point in May-June 2007, I just made a decision: it's time for wholesale transformation. The rest of the summer was spent healing and rebuilding, with an eye toward getting me back to competition shape. I became completely vegan, focusing on clean whole plant foods – with a high concentration on fruits/greens as my body was healing. I also ramped up my personal study of holistic nutrition, getting educated on the relationship between health/wellness and holistic living and being (i.e., mind/body/spirit), and its undeniable link to high performance.
"The switch regarding food for healing AND high performance did not flip until August 2007 when I was introduced to a low fat raw vegan lifestyle and I began studying and working more on the mental, emotional and spiritual aspects of my life. From there, I began rebuilding and healing more rapidly, studying more about the vegan lifestyle (with emphasis on compassion for self, animals and the environment) and things started to change for the better – on the water, in the gym, even in my relationships, including with myself.
"I finally better understood the impact of choosing plant-strong nutrition had on saving animals from death and torture and I was learning about the environmental impact. The connection to compassion for animals and the environment made this path one of no return. This is a trifecta for life."
What does Pam eat?
Fruit and green vegetables make up a lot of Pam's diet (in the form of smoothies), along with sweet potatoes, rice, beans, seeds (like hemp or chia), and nut butters.
This helps to fuel her demanding schedule. Despite retiring from sprint canoeing in 2010 she still trains extensively and competes.
"Currently I am training in the Hawaiian outrigger canoe for our women's team's big races in September, the Catalina Crossing (U.S. National Championships) – 26 mile race, and the Na Wahine O Ke Kai Sept 25. I train 6 days a week, at least 4-5 days a week in the canoe or my racing ocean surfski (kayak). During the racing season I have at least 1 day of strength and conditioning training a week with professional trainer, Kevin Maselka, owner of Elite Physique."
"He trains numerous pro athletes so I am fortunate to have his help. I am still healing 2 torn rotator cuffs so basic rehabilitation work is done before all training sessions. In total, I train about 10-12 hours per week, which includes some flexibility work. I also work on mental training daily, including mindfulness/meditation."
Her activities aren't limited to the water either. "As President of WomenCAN International, I am still intensely involved on a daily basis with the cause for gaining Olympic inclusion and gender equality for women's canoe. Women have been banned from competing since canoe/kayak was established on the Olympic program in 1936. The formal lobby movement has been active since 1998. I have been active as a lobbyist/advocate since 2000.
"We are 99% certain the International Olympic Committee will vote YES for women's canoe inclusion for Tokyo 2020 – 3 women's events. They should be voting by November (2016) So as you watch the Olympic canoe/kayak events, I hope people will notice that women do not have canoe events, only kayak". EDIT: As of 2020, the Olympics will indeed include women's canoe events!
She's also an outspoken supporter of drug free competition and #cleansport campaigner and is also a volunteer with The True Athlete Project as a consultant.
With so many achievements, Pam has found that her teammates respect her choice of being vegan.
"My women's team is awesome. It's not an issue. Many of the women have other health issues so we all make a point to bring healthy food for after practice meals and support each other in staying healthy. Some even make a point to bring vegan food! I think this is a key to our team's success.
"Some from the men's team have teased me more mercilessly over the years, but when I've beaten them on the water, the joke usually dies. But they still like to tease me. I still offer them grapes after practice to go along with their beer."
"In a nutshell, a plant-strong diet has been a foundation for what has become a magic formula for healing, and high performance. I also feel that high quality nutrition, in addition to a focus on body/mind/spirit transformation, has ultimately helped me become a better, more compassionate human being."
Pam's Links
Similar Athletes