Vegan Power! 2018 Review of the year.
During 2018 we've brought you news of vegan athletes achieving amazing things – in so many different ways.
5 December 2018
The year started out with former World Champion figure skater Meagan Duhamel winning her seventh and last National figure skating title in her retirement season. Canadian Champion again! (Full story here).
Julia Hubbard released her guide to cookery 'The Strong Vegan'. The personal trainer has inspired many of her clients to try veganism, and hopes this book will assist them. The cook she worked with turned vegan as a result of the project too! (More here).
Australian track athlete Morgan Mitchell won the Hunter Classic 400 m for a fourth time and remains the leading runner in her nation over the distance. (More here)
Pro Wrestler Austin Aries took the Impact Wrestling Heavyweight Global Champion title to add to his collection of belts. Last year he wrote a book about food so knows his nutrition. (More here).
Another successful fighter was British martial artists and former World Savate Champion James Southwood won the Budapest Open for a third time. Many of his students took titles in this sport often dominated by the French. (More here).
American runner Yassine DIboun entered the incredibly tough Hurt 100 mile race. The massive height gain and hostile terrain meant many failed to finish – Yassine did, taking 6th. He crossed 20 streams and the height gain was over 7400 metres!  (More here).
Thirteen year old racquetball player and former World Champion Cody Elkins won the California State Junior doubles title. Cody's been vegan since age 2 and is also a formidable table tennis player. (More here).
Figure skater Meagan Duhamel helped the Canadian team to Gold at the Winter Olympics in her last competition before retiring from an amazing career (more here).  She went on to take a Bronze in the individual doubles. She now has an Olympic medal of each colour! (More here).
Vegan strength athletes also had a great year. Powerlifter Yolanda Presswood set a California State records for squat, bench and competition total – and took the US national record in squat. (More here).
 Hulda B Waage was the highest ranked powerlifter at the Icelandic nationals – which is not easy in a nation where strength sports are so popular. She didn't rest on her success and the next day broke the national record for bench press. (More here).
Runner Vlad Ixel took course records over 22k and 25km before, despite inexperience in cycling and swimming, qualifying for the World Half Ironman Championships. (More here).
We also reported on fighters: 'The Vascular Vegetarian' Austin Aries won the Impact Grand Championship to become only the fifth man to win the Grand Slam. (More here).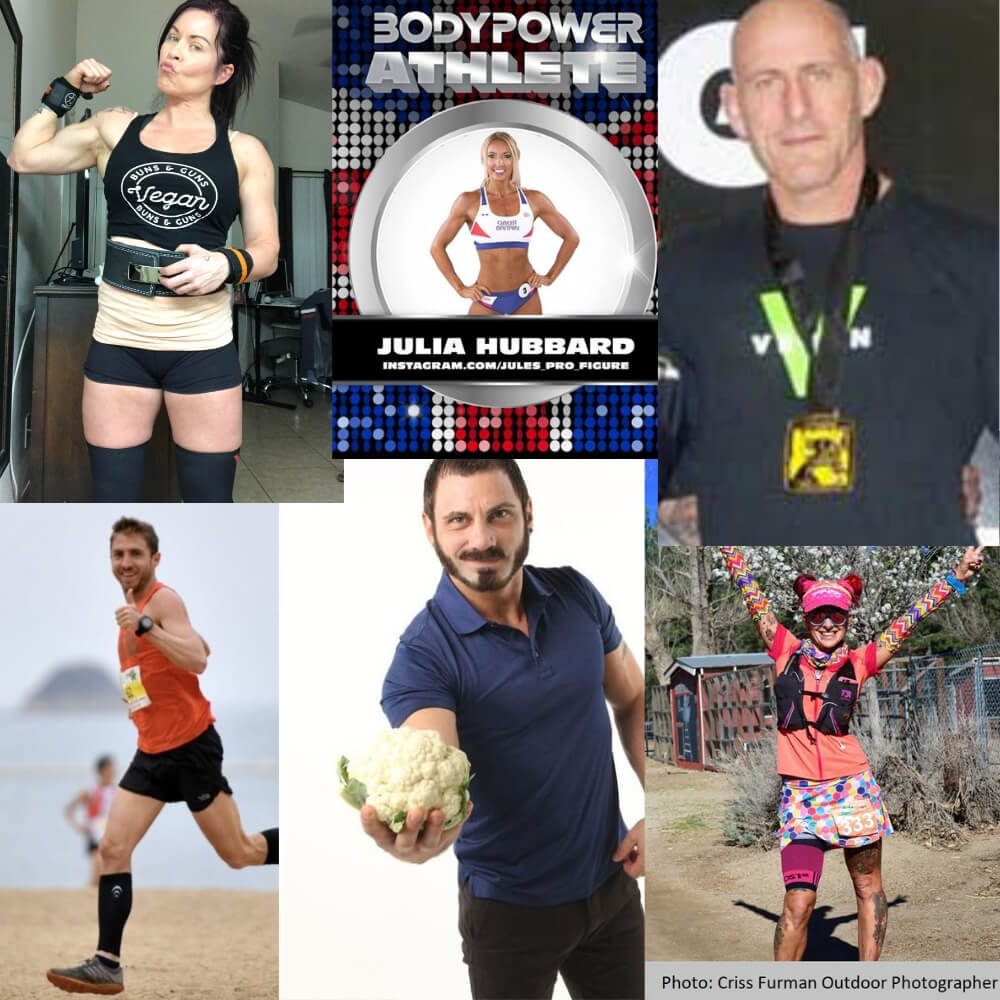 American Brazilian Jui Jitsu veteran David Meyer added another World title when he won Gold in the World Championships – that's his eighth world title! (More here).
Vlad continued his remarkable transition from running to triathlon as he won his age category at the Davao Half Ironman.
Vegan ultramarathon runner Catra Corbett ran 192 miles in three days to win the 72 hour Beyond Limits ultra, running much further than she planned to. (More here).
Bodybuilder Julia Hubbard was invited to appear at the prestigious Bodypower Expo and was named as a Bodypower athlete. (More here)
Hulda B Waage had a tricky competition at the European Championships, although she increased her own national records for squat, deadlift and competition total even further. (More here).
Vegan Surfer Tia Blanco turned 21 and celebrated with wins in the Corona Extra Pro Surfing Circuit O'Neill Series and then in the Rip Curl. (More here).
Freerunner Tim Shieff hit the UK primetime TV screens as he amazed everyone with his skills on UK Ninja Warrior. He finished as series winner – again!  (more here).
Runner Fiona Oakes added to her existing entries in the Guinness book of Records as she took on a night run in Norway and achieved the fastest Half Marathon in a cow costume. (Read more).
Vegan Olympic weightlifter Ramona Cadogan won the Pan American Championships, qualifying her for the World Championships. (More here).
Catra Corbett was out on the trails she loves again – breaking a course record for a 310 mile trail across California, accompanied partway by her dog Truman. (More here).
Canadian vegan Antoine Jolicoer Desroches finished fourth in his second race at the full Ironman distance, at Ironman Mont-Tremblant. (More here.)
Julia Trezise-Conroy broke all four national powerlifting records as she finished top woman lifter at the New Zealand nationals. (More here).
Aussie Vlad Ixel's limited time competing in triathlon doesn't seem to have held him back as he reached #1 ranking in the World for his age group over the Half Ironman distance. This is despite minimal training on the bike! (More here).
Bodybuilder Julia Hubbard returned to the UNBA Universe where she won Gold for the second time. Two years ago she won Gold in the Amateur category. (More here).
Veteran Powerlifter Pat Reeves is continuing to compete, train and referee. This year, vegan for over 40 years, she broke her own world deadlift record in the 70-74 category. (More here).
Hulda B Waage competed in Europe and broke all four of her own powerlifting records – yet again! (More here)
Ariel Rosenfeld completed the 246 km Spartathlon for the third time and overcame terrible weather to complete the event in a strong time. (More here).
Italian cyclist Paolo Barbon brought veganism to the streets as he completed an epic cycle trip from Rome to Turin to raise awareness. (More here).
An incredible statistic revealed itself as runner Catra Corbett closed in on her 100,000th mile in training and competition, enabling many to reflect on the scale of this achievement by Catra, who swapped a life of alcohol and drugs for veganism and running. She's now passed the epic milestone! (More here).
Runner Fiona Oakes completed the Atacama crossing which she described as the toughest challenge yet with challenges in the form of hostile terrain, subzero temperatures, extreme heat and sand dunes. Fiona won one of the stages. (More here).
Trail runner Alister Gardner made a late change of plans as he completed an astonishing run to break the course record at Mont Bromont Ultra in one of the most impressive runs of his incredible career. (More here).
Australian veteran Powerlifter Glenda Presutti overcame several injuries to break three powerlfting records in one meet. She competed against much younger women and amazed them all with her vegan strength! (More here).
Vegan duathlete Lisa Gawthorne competed in the European Championships and finished 5th in her age group. (More here).
Hulda B Waage competed in Europe and broke her own records for yet another time. (More here).
Don't forget you can subsribe to our site and catch all the news by clicking here.
In 2018 we also added these athletes to the site:
Karl Bruder, vegan bodybuilder
Nigel Morton, vegan powerlifter
Ramona Cadogan, vegan weightlifter
Larkyn Austman, vegan figure skater
TJ Galiari, vegan icehockey player
Victoria Lissack, vegan bodybuilder
Calle Alexander, Vegan Ninja warrior competitor
Anastasia Zinchenko, vegan powerlifter and bodybuilder
Marc-Olivier Brouillette, vegan American footballer
Paolo Barbon, vegan long distance cyclist,
Nicole Kelly, vegan snowboarder
Kuntal Joisher, vegan mountaineer
We also brought you tales of the athletes' dogs!