Tennis victory for Vicki Cosio
Tennis amateur Vicki Cosio travelled to Seattle to enter the Washington State Open National Senior Tournament in August. She was an unseeded player in the women's over 45s which meant she had a tough route to the final including matches against the 3rd and second seed, with the top seed waiting for her in the final.
25 August 2013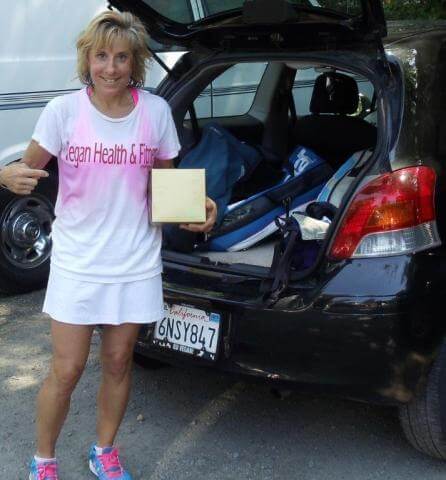 She fought through to the final where a tough match awaited against a player who in 2011 was a member of the US national team.
Vicki decided to break with tradition and wear a cotton T shirt in the final, which she usually avoids because of the weight when they get wet with sweat. The final seemed a good opportunity to promote a vegan health magazine using her T shirt as there were a lot of spectators.
The start was more successful for Vicki's opponent who was soon 4-1 up partly due to a strong serve and a very high topspin forehand shot that kept Vicki on the baseline. Vicki fought back but lost the first set 6-3.
The second and third sets were filled with some long rallies while Vicki used a common tactic of opening up the court to tire her opponent, which seemed to work.
"My final was 3 hours and 10 minutes, and my fitness is what won it for me" she told us. "She told me later that she was starting to cramp, but I felt like I could have gone another two hours! Thanks to my VEGA hydrator, my chia seeds and dates and salt!"
During the final the colour ran unexpected with her pink bra, turning her shirt pink and bringing attention to the shirt, which she thought was a bonus.