World title for James Southwood!
James has been an internationally recognised force in the world of Savate, the French martial art for a decade.  Known as an a leading teacher and practitioner of the sport in England, this year he entered the World Championships in Rome hoping to add to his two bronzes and one silver achieved before.
5 November 2014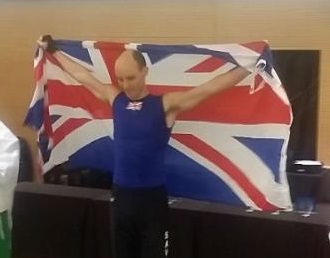 Savate (pronounced 'Suh-Vat') is a French sport fought in a 5mx5m ring, and is very popular in France.  It combines punches from English boxing with French kick techniques and is known for efficiency and elegance.
In Britain it is less well supported and as a result Britain had never had a world champion. James told us that "the French have tens of thousands of practitioners, a legion of top coaches and good funding, most nations represent only a few hundred athletes, or fewer, and are self funded."
James took along quality protein such as falafel, oats, nuts and trek bars.  "The event catering provided some simple pasta and tomato, which I wouldn't normally eat, but the carbs were a welcome energy source for a few days" he told us.
His training had been focussed on a different aspects, including psychological approaches and strength training.
James was drawn against Belgium and Holland in the group stages.  In his first match against the Belgian he felt he was not performing at his best but still had enough depth in his skills to win.  The Dutch opponent was a friend of James's at his first World Championships and James secured the win to take a place in the semi final against an Algerian fighter, who was known for his tricky style.
This match was tight but James felt he was fighting well and winning close rounds.  This put him in the final against a French former world champion.  The final was held on November 1st, and the significance of it being World Vegan Day was not lost on James.
"This year I trained with a different attitude, focussing on the psychological aspects of my game" he told us afterwards.  Before the match he showered and changed and reminded himself of a character from the fictional story The Hustler before meditating.  His concentration played a prominent part in his fight in the final during which his work rate was as high as he could have hoped.
He secured the win to fulfil his ambition of a world title. "The result of 15 years of work is still settling in. I am planning what to do next, how to develop the sport, my students and my own practice after this big win."