Christine hits the podium in Paris to Ancaster
Christine has cycled for the American team across the world. She took on the Paris to Ancaster ride along with some tough competitors. They included Olympic MTB Silver Medallist Alison Sydor and US Cyclocross National Champion Jeremy Powers among the 2000 entrants. The race itself has been running for over 20 years and is known for the gravel surface which leads to it being classified as cyclocross.
30 April 2014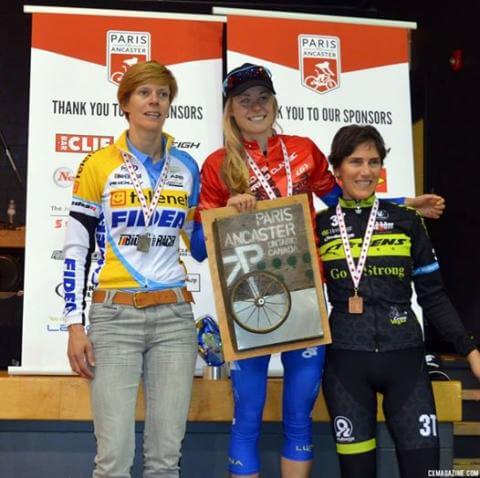 Flying in from Belgium with her friend Ellen van Loy Christine looked forward to the 70k classic knowing it would be a difficult race with quality competition.
The pair took to the tough race well with Christine finishing third – closely behind Ellen. She was third by just 24 seconds and 2:23 behind the leader. She won her age category (40-49) by 5 minutes, nearly 16 minutes ahead of third.
Christine wore her cycling kit with 'vegan' across the backside and told us how excited she was to race with her friend and make the podium in such a prestigious race.